Pet owners must take care of their pets, including regularly bathing them. In this case, tortoises such as Indian star tortoise don't necessarily need to be bathe too often. They can typically clean and maintain their hygiene by soaking in the water themselves. This is why providing them with a bowl of clean water in their enclosure is crucial.
However, some tortoises cannot clean themselves properly, leading to dirt and dry skin cells accumulating in their body. This is when you need to give your tortoise a good bath. But giving a tortoise a bath can be tricky because it is correlated with the tortoise's well-being. On that note, the following is how to bathe an Indian star tortoise properly, so they don't cause them any harm.
Gather Supplies
Before giving your Indian star tortoise a bath, you must gather all the necessary supplies to bathe them as quickly and efficiently as possible. The following is the list of the supplies you will need.
Shallow Container
First, you will need a shallow container or bathing dish to soak the tortoise. The container should be large enough for the tortoise to move around but shallow enough that the tortoise can comfortably stand. The water should be deep enough to cover the tortoise's legs but not deeper than that.
Lukewarm Water
If you bathe a tortoise using cold water, its body temperature can drop. Use lukewarm water instead to help the tortoise relax, but not too hot that it can harm the tortoise. The ideal temperature for tortoise bath water is between 80-85 degrees Fahrenheit (26-29 degrees Celsius).
Soft-Bristled Brush
This is additional, and you should only use it when necessary, such as getting rid of stubborn dirt. Make sure you use the softest bristles and brush the tortoise's shell as gently as possible. Harsh brushing can damage the tortoise's shell and skin.
Soft Towels
You must also prepare a soft towel to dry the tortoise after the bath. Make sure to use a soft and clean towel to gently dry them without making them uncomfortable.
Some people may suggest you use a gentle soap. However, it is best for you to avoid soap altogether since the chemicals can harm the tortoise. Lukewarm water and a soft brush should be enough to clean the tortoise. The bathing area should be set up in a quiet, stress-free location to help keep the tortoise calm and ensure that the bathing process won't stress them out.

How Often Should I Bathe My Indian Star Tortoise?
Indian Star tortoises don't need frequent baths, and sometimes, you don't have to bathe them at all since Indian Star tortoise can maintain their hygiene by themselves. You can give them a bath when necessary, such as when you see they have a lot of dirt and debris built up. If you want to ensure that they stay clean and want to keep their shell shiny, you can bathe them once per month. Keep in mind that overbathing can do more harm than good to the tortoise's well-being. It can dry out their skin and shells leading to several health problems. Letting them soak in a bowl of water should be enough to keep them hydrated.
Preparing the Bath
After you have all the supplies gathered in a quiet room, you can start preparing the bath. Fill the container with 1-2 inches of lukewarm water, enough for them to soak their legs. Make sure that the water is at the ideal temperature, as mentioned above. The water should be free of any cleaning agents or chemicals, including soap. You can also help the tortoise get ready for the bath by letting them soak in the water first.
Bathing the Tortoise
After you prepare the bath water, you can start the bathing process. Here's a step-by-step you can follow when bathing an Indian Star tortoise:
Place your tortoise in the water
Gently place your tortoise in the water, ensuring it is comfortable and able to keep its head above water. This helps them to get ready for the bathing process.
Allow your tortoise to soak
Give your tortoise time to soak in the water for about 15-20 minutes. Soaking helps them to hydrate and can also help to soften any dried or stuck-on debris on their shell.
Gently scrub their shell and legs
Using a soft-bristled brush or your hands, gently scrub your tortoise's shell and legs to remove any dirt or debris until they're all cleaned. Pay attention to the small areas, especially the crevices between their carapaces.
Rinse your tortoise
Use clean water to rinse your tortoise thoroughly to wash off any residue or debris. Ensure the water flow is mild so the tortoises are not stressed. Avoid getting water in their nostrils or mouth.
Dry your tortoise
Using a soft towel, gently pat your tortoise dry. It's crucial to ensure your tortoise is fully dry before returning them to their enclosure to avoid any risk of shell rot.
Return your tortoise to the enclosure
Once your tortoise is dry, return them to their enclosure and provide them with fresh water for drinking and soaking.
Do Indian Star Tortoises Like to Be Bathed?
Indian Star tortoises may enjoy soaking in water, but just like other tortoise species, they don't like being handled. This handling process may stress them more than the bathing process itself. You have to handle them as gently as possible to keep them comfortable. Also, make sure that you don't hold them for too long. When brushing them, do it in a gentle move and as softly as possible so they don't get uncomfortable. Avoid sudden movements since they can make them feel threatened.
---
You Might Also Like:
---
Can I Bathe My Tortoise Outside in The Sun?
While it may seem like a good idea to bathe your Indian star tortoise outside in the sun, it's generally not recommended. There are some reasons why it is better to bathe your tortoise in an indoor room with a controlled temperature. First, it is hard to maintain the water temperature outside since it can get too hot or too cold, depending on your area's weather. Outside bathing also makes your tortoise vulnerable to predators such as birds and other animals since they may get attracted to the water. The other animal's existence may threaten your tortoise even though you are there to protect them. Air pollution may also contaminate the water, making it unsafe for your tortoise.
It is best to bathe your tortoise indoors in a quiet, safe room. However, you can bathe them outside as long as it is still within your private property and only if you are sure there will be no wild animals around. Also, avoiding direct sunlight when bathing your tortoise is better to avoid sudden water temperature changes.
How do I Know if My Tortoise is Stressed During a Bath?
Pay attention to your Indian star tortoise body language and behavior during a bathe to ensure they are comfortable and not experiencing any stress. Here are a few signs that your tortoise may be stressed during a bath:
Hiding or retracting into its shell
If your tortoise is trying to hide or retreat into their shell during a bath, it may be a sign that they are feeling stressed or threatened, so they follow its natural instinct to protect itself.
Flipping over
If your tortoise flips over onto their back during a bath, it might have slipped over in the water and may be struggling to get back up. It can be an indication that the container you use is too slippery.
Frantic movements
If your tortoise is frantically paddling their legs or trying to climb out of the water, it's a clear sign that they are stressed and want to get out.
Wide-eyed or open-mouthed
If your tortoise has wide eyes or an open mouth during a bath, it may be a sign of stress or discomfort. This sign is subtle, and you may not recognize it immediately, so you must pay close attention.
If you notice any of these signs, it's essential to remove your tortoise from the water and give them a break. You can shorten the duration of their bath or adjust the water temperature to make it more comfortable for them. If your tortoise continues to exhibit signs of stress, it may be best to stop attempting to bathe them again unless it is super necessary.
Drying the Tortoise
The drying process is just as crucial as the bathing process itself. Carefully dry the tortoise using a soft towel. Be careful and dry the clean tortoise shell as gently as possible. Avoid any pressure or harsh rubbing that could cause damage to the tortoise's shell. Drying the remaining water in their body and shell is best using a soft patting motion.
The Benefit of Bath for Indian Star Tortoises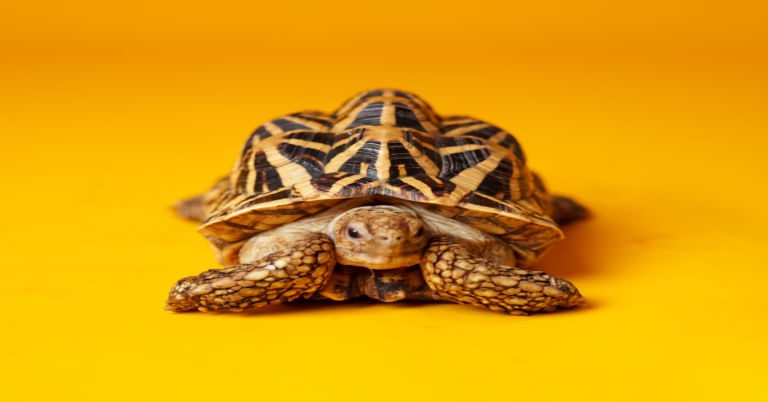 Even though Indian star tortoises may not enjoy being bathed, it can still be beneficial for them. The benefits of baths for Indian star tortoises include:
Hydration
Soaking in water helps to hydrate the tortoise and prevent dehydration, which is vital for their overall health. It also helps the tortoise to avoid having a drying tortoise shell.
Cleanliness
Bathing helps to remove dirt, debris, and parasites from the tortoise's skin and shell, helping to keep them clean and healthy.
Promoting bowel movements
Soaking in water can stimulate bowel movements, which can help to defecate and prevent constipation. Regular baths promote a healthy digestive system.
Shedding
Bathing can help to soften the old skin, making it easier for the tortoise to shed its skin. This is important since old skin build-ups can attract bacteria and parasites.
Relaxation
Bathing can help the tortoise to relax and calm, making it easier to handle them and reducing stress levels.
Those benefits can only be achieved when you bathe the tortoises properly. On the contrary, the tortoise will get stressed if it is done harshly. Alternatively, you can provide them with bath water and allow them to soak themselves, so you don't have to handle them to avoid stress.
Conclusion
Bathing your Indian star tortoise is not necessary as long as they are clean. You can, of course, bathe them when you notice they are dirty and have too much dirt built up in their body and shell. However, regular bathing can also benefit their overall hygiene, as mentioned above. If you want your tortoise to be used to bathing, you can accustom them to the bathing process from a young age. That way, they will be familiar with the handling process.
If you notice that your tortoise is getting stressed when you give them a bath, it is best to stop the bathing process right away and try the next day again. If the stress signs continue, you have to drop it and stop attempting to give them a bath unless the dirt build-ups are too severe that it can affect their health.
---
Latest Post:
---
Frequently Asked Question (FAQ)
Can I use soap or other cleaning agents when bathing my tortoise?
No. Some people may advise you to use gentle soap or soap explicitly made for tortoises. However, it is best to clean them only with lukewarm water and a soft brush. The chemicals and cleaning agents in the soap may harm them and damage their shells. If you have to get rid of stubborn build-ups, it is best to let the tortoise soak in water for some time to soften the dirt.
How long should I leave my tortoise in the bath?
Before brushing them and doing a more detailed cleaning process, leave the tortoise to soak for about 15-20 minutes. It will help them to hydrate and soften any stubborn dirt. Soaking also helps the old skin cells to soften so you can get rid of them easily. It also helps the tortoise with their shedding process.
What temperature should the water be when bathing my tortoise?
The ideal temperature to bathe your tortoise is 80-85 degrees Fahrenheit (26-29 degrees Celsius). This temperature is warm enough to keep the tortoise comfortable but not too hot for them. You can use a thermometer to get the proper water temperature. Also, bathe your tortoise in a controlled indoor environment to avoid sudden temperature changes.